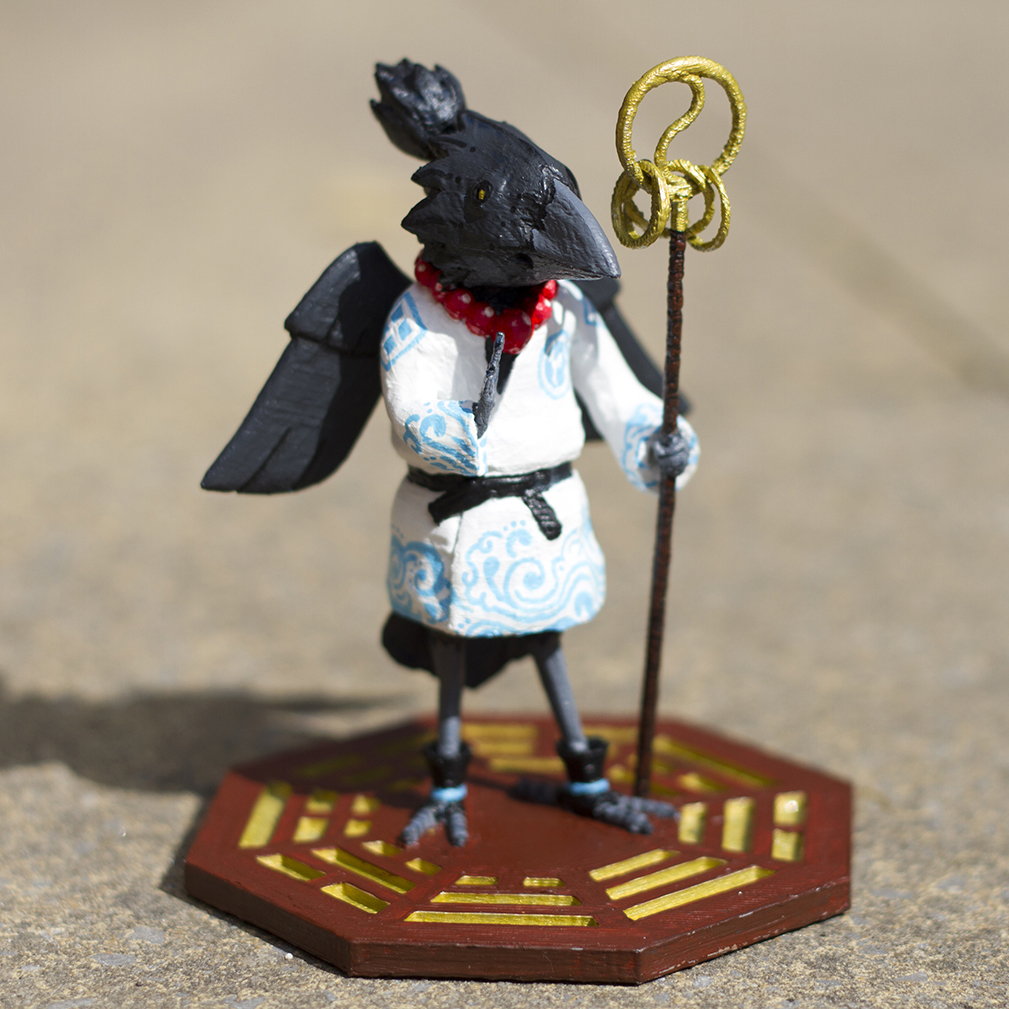 A short while ago, my colleague, talented artist Mike Snowdon, did a lovely little sketch of his interpretation of a Tengu from Japanese mythology.
I really liked this this little guy, and thought it would look great in 3D, and would be great practice for me to have a go at someone else's design! So I made a start, using a similar method to a human character for the main body.
For the head, since it was a crow, I found an old model of a crane I had done, and tweaked it to this design. Why not re-use old assets to save time eh? 😛 For the wings, I also used the crane model as a base, and tweaked it to a more stylised wing for the Tengu.
Then it was a matter of adding details such as his kimono, ponytail and boots, which was something that Mike and I discussed during the modelling process to get something that would look right.
During this process, we realised that there was a competition for 3D Printing happening in the area that we had been asked to consider entering. The 3d Print Cup by Cartridge Save called for artists to design and create a 3D model that would be printed and then sent back to us to be painted and finished. There was also 1 particular requirement, it had to have a moveable part.
So we thought why not? If we have enough time to get the model done for the deadline, why not see what it would be like to see a character come to life through 3D printing!
This meant that I had to consider the printing process during the modelling of the character, for example how to make a moveable part that would work in 1 print, and then pieces could break if they were too small, or they could get stuck together if they were too close.
We decided that if the wings could move that would be a great moving piece, so I created a ball joint in the Tengu's shoulder blade.
I added a simple rig and posed the character, and added a staff with a yin yang symbol, with the rings becoming another moveable part.
The final model, placed on a Bagua with Tengu facing the symbol for Heaven.
We even did a quick augmented reality version of the model!
So after sending off the model to be printed, we eagerly waited and after a few weeks received the little guy, about the height of 12cm.
It was then our job to take of the support materials, sand him down and paint details. Due to the model being slightly smaller then anticipated, this proved to be a delicate process, with the odd piece snapping! But due to Mike's craftsmanship he was able to repair and paint Tengu-san.
Isn't he great! We are so proud of him 😀
At the 3D Print Cup wrap party in Manchester, we went up against some fierce competition, and though we didn't win the grand prize of a 3D Printer (Makerbot Replicator) we came home with 'Best Team' 🙂
It was a great opportunity, and we learned a lot about the 3D printing process, and hope to be able to print more in the future!
Find out more about the competition and the other competitors HERE.